Read part 1 of our article about Elista.
Chess city
There is also a large plastic chessboard, that can be played by anyone. The area of Chess city was built in Elista especially for the Chess Championship that was held here in 1998. In the centre of this area is the Chess Palace around which can be found many interesting monuments related to the game of chess.
At the entrance of Chess city, visitors are welcomed by the large stupa of enlightenment. There are a lot of stupas in Elista, but this one is the largest one. As for monuments, Elista has lots of them (it seems that the city is a leader on the European continent about this). There is a monument dedicated to buddhist educator of the 17th century Zaya Pandita, and another monument to pagan protector of the Kalmyks, Bely the elder. Most of the monuments of the Kalmuk capital represent ancient Kalmyk epic "Dzhanagar".
The marks of the Soviet past is still very visible in Elista, resulting in some interesting mosaics decorating the bus terminal and the central market, as well as many monuments and architecture of socialist style which are still dominant in the city.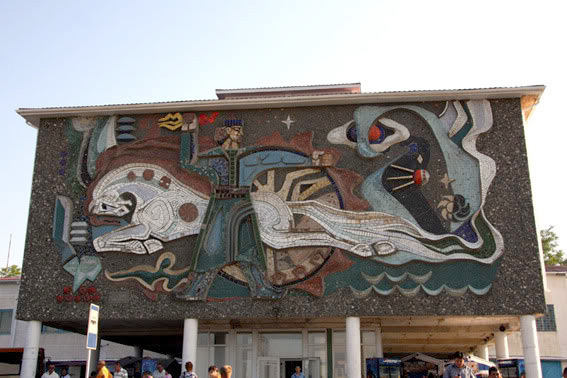 The "Sacred Abode of Gelug School's Theory and Practice" (Syakyusn-syume) or old khurul, the second Buddhist temple, is very impressive. This is the first Buddhist temple built in Elista after the Soviet period (1996). The temple is situated in the steppe, on the outskirts of the town. In the centre of the temple, as it is usual, rise a statue of the Buddha and the walls are decorated with painted Tibetan tanka. The images tell of the various subjects in Buddhist tradition. The atmosphere doesn't seem as pretentious as in the "Golden Temple", and therefore, is more pleasant and relaxing. Pigeons live under the roof of the temple, and in the surrounding steppe, during the warmer months, you can see beautiful hares and birds. In addition of the temple, the site of the khurul is home for a small house for the lamas, a stupa containing the remains of Buddhist personalities and a rose garden.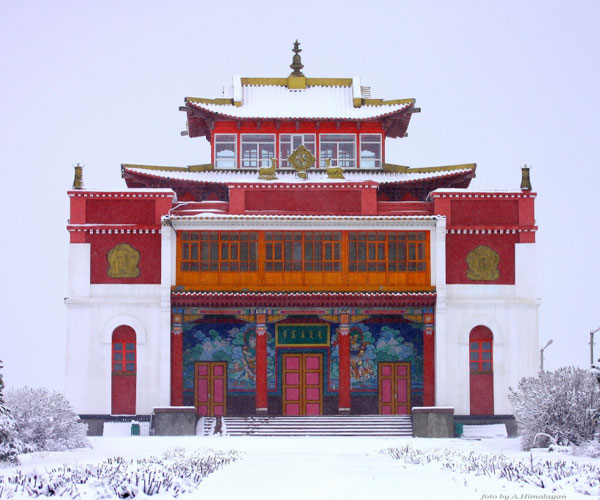 Nowadays Elista is an interesting and original city, that is worth a visit. Only, this is not so simple to get there. There is only one flight from Moscow and a lack of communication by train. Actually, the only reliable way to arrive to the capital of Kalmykia is by road, either by bus or car. There are four towns from where you can start your trip: Astrakhan, Volgograd, Stavropol and Rostov-on-Don.
Евгения Плещунова