Виктор Пелевин (Victor Pelevin) was born in 1962. He is a fiction writer, leading figure of the current Russian literature, whose works, often characterised as post-modern, have been translated into many languages.
"Generation П" (Generation P), his third novel is about поколение (the generation) that emerged and grew up in the 80s and 90s, during the political and economical reforms. As soon as the novel was published in 1999, it became a best seller.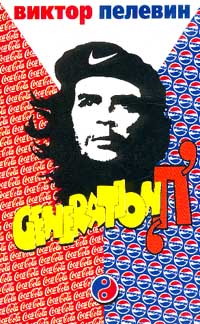 "П" означает пепси (P stands for "Pepsi"), a drink that was first imported to Russia in the mid 70s, the first foreign product to legally enter the Soviet territory.
The plot
"Generation P" tells the story of Vavylen Tatarsky, an intellectual who has a passion for Pasternak. When he loses his job at the Institute of Literature in the early 1990s, his illusions and ideals are severely undermined. While working as a cigarettes seller in a kiosk, he eventually meets a former classmate who helps him become an advertising copywriter.
He discovers he has a real talent for writing advertising slogans, adapting the commercials from the Western world to the Russian mentality. Для него эта работа – смысл жизни, религия (this work becomes the meaning of his life, his religion). The hero is initiated, secrets are delivered to him…
The book creates a surreal atmosphere of chaos, in which order begins to appear, terrible, as a pagan cult.
From the novel to the film
In April, the film of the same name, directed by Виктор Гинзбург (Victor Ginsburg), was released in Russia. Victor Ginsburg was born in Soviet Union, but emigrated to the United States at an early age. The film being an independent project, it took Ginsburg four years to do the shooting.
In an interview to the BBC Moscow, Ginsburg called Pelevin Учитель (a Master) and said that his book was откровение (a revelation). The author himself considered his novel "неэкранизируемый" (impossible to shoot as a film), but "так как Пелевин – самый умный человек на планете, он быстро понял мою мысль и поддержал." (as Pelevin is the smartest man on the planet, he quickly understood my ideas and supported me.)
In the novel, the action ends in the 90's, but in the film it continues up to now. И роман, и фильм – это утопия (both the novel and the film are an utopia). The director was able to show how blurred was the line between reality and fantasy. When at the end, the main character orders his secretary to replace the Pepsi-Cola cans in the canteen by Coca-cola cans, it isn't meant to be taken as a product placement, but as a metaphor of how far he has progressed in all these years.