Many foreigners, even those who have already visited Russia, often believe that all the most interesting things that can be seen in our country are concentrated between two big cities: Moscow and St. Petersburg.
But these are wrong stereotypes. We already wrote about various interesting places and wonders of the nature of our country, from the Baltic Sea to the Pacific Ocean. This time, I would like to tell you about an amazing city which is situated in the middle of the steppes, and is unofficially considered the capital of Buddhism in Europe. Yes, this city is in Russia. It's Elista, the capital of the Republic of Kalmykia.
The city is situated in the south of the European part of Russia, between the Black Sea and the Caspian Sea. The contemporary curiosities of Elista can be divided in three parts:
Everything that is related to Buddhism,
Everything that is related to chess games,
An extraordinary number of monuments.
The current image of the city is mostly due to the merits of the previous head of the Kalmyk Republic, Kirsan Ilyumzhinov, who is now the president of the International Federation of Chess.
Elista, capital of Buddhism
Buddhism was already well spread in Kalmykia before the Soviet authorities took the power and is actively coming back nowadays. There are two buddhism temples in Elista, and both are not only the largest in Russia, but in all Europe. And so the Kalmyk authorities rightly positioned the city as the capital of Buddhism of the European continent.
The main attraction of Elista is the buddhism temple "Golden Abode of Buddha Shakyamuni (Goal Syume) or new khurul. The name of the temple was given by the Dalai Lama himself, who made a pastoral visit in Kalmykia in 2004. A year later the temple was opened. The "Golden Abode" is surrounded with a beautiful flower garden, fountains, monuments of great ancient buddhist masters and prayer wheels.
Many kinds of pagodas, gates, pavilions and simple representations in oriental style are scattered throughout the city. On the main square, where the monument to Lenin used to stand during the Soviet times, you now can admire the beautiful "Pagoda of the seven days", a prayer wheel filled with 30 million Buddhist mantras brought back from India and offered by the Dalai Lama.
However, Kalmyks are respectful of their past, even though they underwent terrible ordeals. For this reason, the monument of Lenin was not completely dismantled, but simply moved to one side of the square.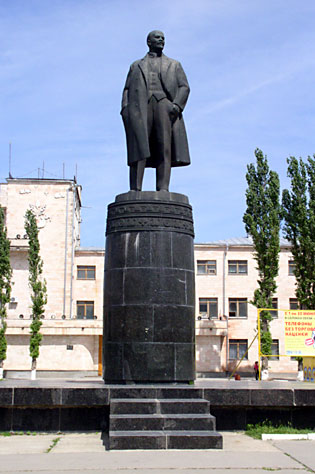 Read now the second part of our article about the city of Elista.
Евгения Плещунова