Drinking tea in Moscow is a real phenomenon! And it's not just a phenomenon, but an originally, truly and exclusively Muscovite one. In older times, people from Moscow were called "чаехлёб" (a person who drinks lot of tea), and could be easily recognised by their characteristic features.
Since when and why do Muscovites drink tea?
The great poet Gavrila Derzhavin (1743-1816), from St. Petersburg wrote:
А я, проспавши до полудня,
Курю табак и кофий пью.
But having overslept until noon,
I smoke and drink a coffee.
And Piotr Vyazemsky (1792-1878), real Muscovite sang:
Час дружеских бесед у чайного стола!
По-православному, не на манер немецкий,
Не жидкий, как вода или напиток детский,
Но Русью веющий, но сочный, но густой,
Душистый льётся чай янтарною струёй.
An hour of friendly chat at a tea table!
In an orthodox way, not like Germans,
Not weak like water or children drinks,
But a strong Russian, but a rich, but a dense,
But a fragrant tea pouring as an amber stream.
From a medicine

In 1638, the ambassador of Tsar Mikhail Fyodorovich brought four poods (1 pood =16.8 kg) of unknown dried leaves offered by a rich Mongolian Khan. It was tea leaves.
Twenty years later, a foreign doctor advised Tsar Alexei Mikhailovich to drink tea as a medicine. So, the Tsar started to drink tea, and his boyars too. It was then drank without addition of sugar or honey.
To an everyday drink
People got used to drink tea gradually. It was extremely expensive. But in the middle of the 18th century in Russia, people were drinking much more tea than in Europe.
Kokorev, a writer depicting everyday life, wrote in 1840s: "In many houses, a part from the two usual moments, morning and evening, people drink so much tea, that it's impossible to keep up with the number of time their doing so." And explained Muscovites' love for tea: "As a stimulating, tea as more effect on the heart than in the head."
Many years later, A. Blok (1880-1921) noticed the action of tea on the soul:
Глухая тоска без причины
И дум неотвязный угар.
Давай-ка наколем лучины,
Раздуем себе самовар!
За верность старинному чину!
За то, чтобы жить не спеша!
Авось и распарит кручину
Хлебнувшая чаю душа!
A dull melancholy for no reason
And thoughts as constant charcoal fumes.
Let's chop sticks
And light up the samovar!
For the fidelity to an old rite!
To live in no hurry!
And maybe it will steam away the anguish
From our tea drinking soul!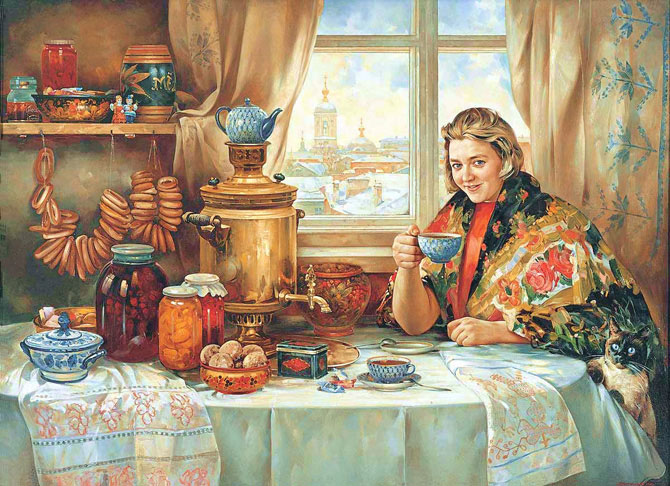 In Moscow, there is an original monument for Muscovites' tea lovers. It the shop "Tea-coffe" in улица Мясницкая (Myasnitskaya street). This original house built in 1896 on the order of Serguey Perlov, a well known tea merchant. The house of Moscow modernist style, with a pagoda on the roof, and a facade decorated with small lamps, umbrellas, dragons. During many years, Muscovites tea lovers came to that street from the remotest areas of the capital, knowing that in this very place they could find the the choice of tea.
Елена Коновалова